News
2018
The Fisher's Ghost Art Award Campbelltown Sydney, 27 October - 13 December
My new sculptural work 'The Spinster & Wonder(full) Woman' has been selected to be shown in the Fisher's Ghost Art Award.
The Heysen Prize for Landscape Hahndorf Academy, SA, 6 October - 9 December
My textile work 'The (un)Common Wombat has been selected in the 2018 Heysen Prize for Landscape in Hahndorf, South Australia from October to December.
Petite Miniature Textile Exhibition Wangaratta Art Gallery, 2 June - 29 July
My textile work 'Ratty' was selected to be exhibited in the 2018 Petite Miniature Textile Exhibition at Wangaratta Gallery.
https://www.dropbox.com/s/1ajbrxxby6moapb/Ratty.JPG?raw=1
Wyndham Art Prize Wyndham Art Gallery, 30 March - 11 June,
My work The un(Common) Wombat exploring the issue of roadkill is featured in the 2018 Wyndham Art Prize. It will also be exhibited in The Heysen Prize for Landscape later in the year
I was also selected to exhibit my work The (un)Common Wombat about road kill as part of the 2018 Wyndham Art Prize held at the Wyndham Art Gallery from 30 March to 10 June.
Landfall Lorne Sculpture Biennale 17 March - 2 April
I installed a new work 'Shelter' that explores ideas around homelessness and surveillance along the Lorne foreshore as part of Victoria's largest outdoor sculpture event held for 3 weeks every two years. The work is woven from data cable and features this figure that is woven around a cast of my own body.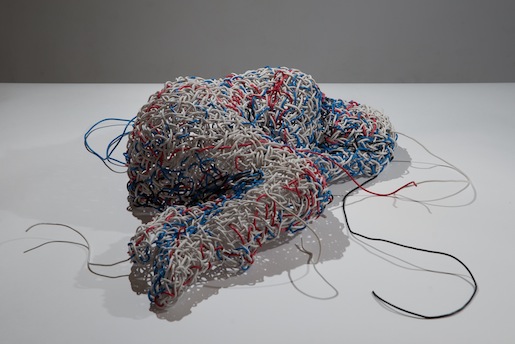 Sleeping figure that appeared in 'Shelter' installation at Landfall Lorne Sculpture Biennale 2018